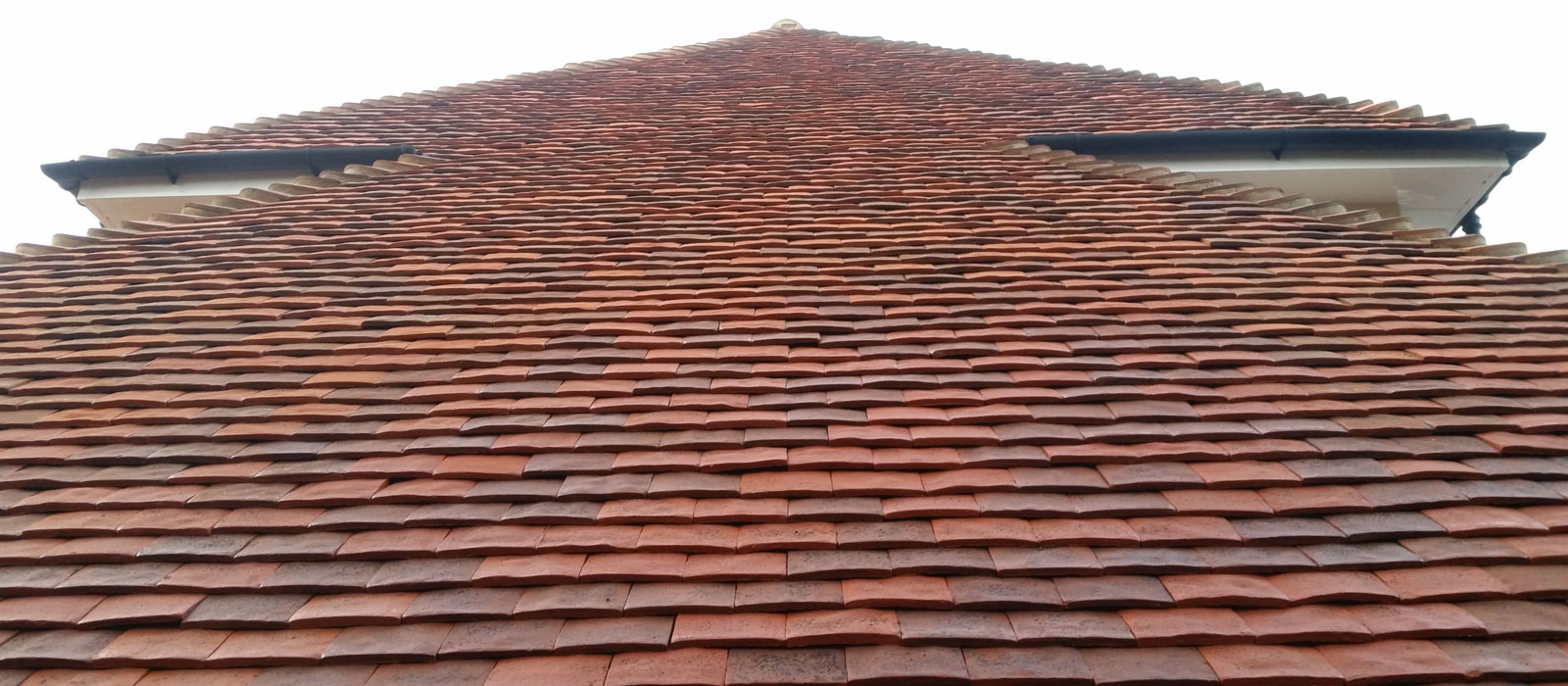 Roof Cleaning & Sealing in Essex
At HPS we strive to 'be the best' when it comes to cleaning and restoring your roof. Our roof cleaning is carried out using specialist professional pressure cleaning and soft washing equipment. This means that the roof tiles will be fully deep cleaned in the minimum time possible with as little disturbance to you or you neighbours.
Just like driveways and patios and anything else left outside under the mercy of the weather, roofs can get dirty too. They are also perfect breeding grounds for moss which I am sure you are already aware of if you find yourself reading through this page of our website. If the moss is constantly falling on your patio and / or clogging up your gutters then perhaps you should consider cleaning your roof and possibly treating it with a protective roof coating which is more efficient both financially and environmentally and is less disruptive than having a whole new roof installed.
The roof cleaning process will remove all moss, algae, lichen and any other dirt residue that has contaminated your roof over time. Throughout the roof cleaning process, we will make sure that downpipes and gutters are fully cleaned out and left clear of any residue from the roof. Once your roof has been cleaned, the walls, windows and perimeter of your home will be rinsed down and left in the same condition it was prior to the work commencing.
The Roof Cleaning & Roof Coating process:
Prepare site - For some jobs we may need to erect scaffolding
Professional pressure washing (Or low pressure 'bio' washing – see below)
Replace any cracked or broken roof tiles
Re-point any broken mortar joints
Apply an anti-fungal solution to the roof
Clean all gutters and facias
Apply first coat of roof coating (if required)
Apply second coat of roof coating to seal (if required)
Tidy site and remove all waste.
There are 2 different methods to cleaning a roof. The more common and popular way is to pressure wash the roof as it gives a much better, all over even finish and removes all dirt, moss and lichens (white spots) quickly and effectively. The second way is by 'soft washing' or 'bio washing' the roof. This is done by manually scraping off all the moss by hand followed by spraying a chemical on the roof at low pressure similar, to that of your garden hose. This chemical will kill off the spores and clean the dirt off the tiles.
Both options have pros and cons and if you are thinking of having your roof cleaned it's probably best to give us a call and we can come and meet you at the property and take a look. Once we see the roof we can give you a much more in depth explanation about the two different ways to go about the it and advise you on which is best for your particular roof.
Roof Sealing / Roof Coating
Once the roof has fully dried we can apply a sealer or a coating to the roof if required for enhanced asthetics and improved future protection. This can take one of two forms:
Smartseal Roof Sealer, This is clear and forms a protective barrier against fungal growths and grime. In addition, it brings out the natural colour in your tiles.
ClimaShield Roof Coating, This is available in 5 different colours. This coating is coloured and is effectively spray painted onto the roof. This is a good option for those that wish to change the colour of their roof and make it look more like a new roof, as opposed to a cleaned roof.
Initially all border and perimeter tiles including the base area of any chimney stacks are cut in by hand. The remaining areas are then coated with professional airless spray equipment, this ensures accurate and efficient application.
The first, of the two applications, is a heavier coat that penetrates deeply into the structure of the tile to ensure longevity in colour retention is achieved as well as providing an efficient depth of water resiliency. After a suitable drying time a second coating is applied adding further depth of colour and protective elements to the structure.
We really will leave every job looking its very best! We have never had an un-impressed customer but don't just take our word for it. Please take the time to view some photos and videos of our previous work on our Facebook and Checkatrade pages.
We are fully trained and insured with Public Liability cover up to the value of £10,000,000